Spark Retail Experience - Online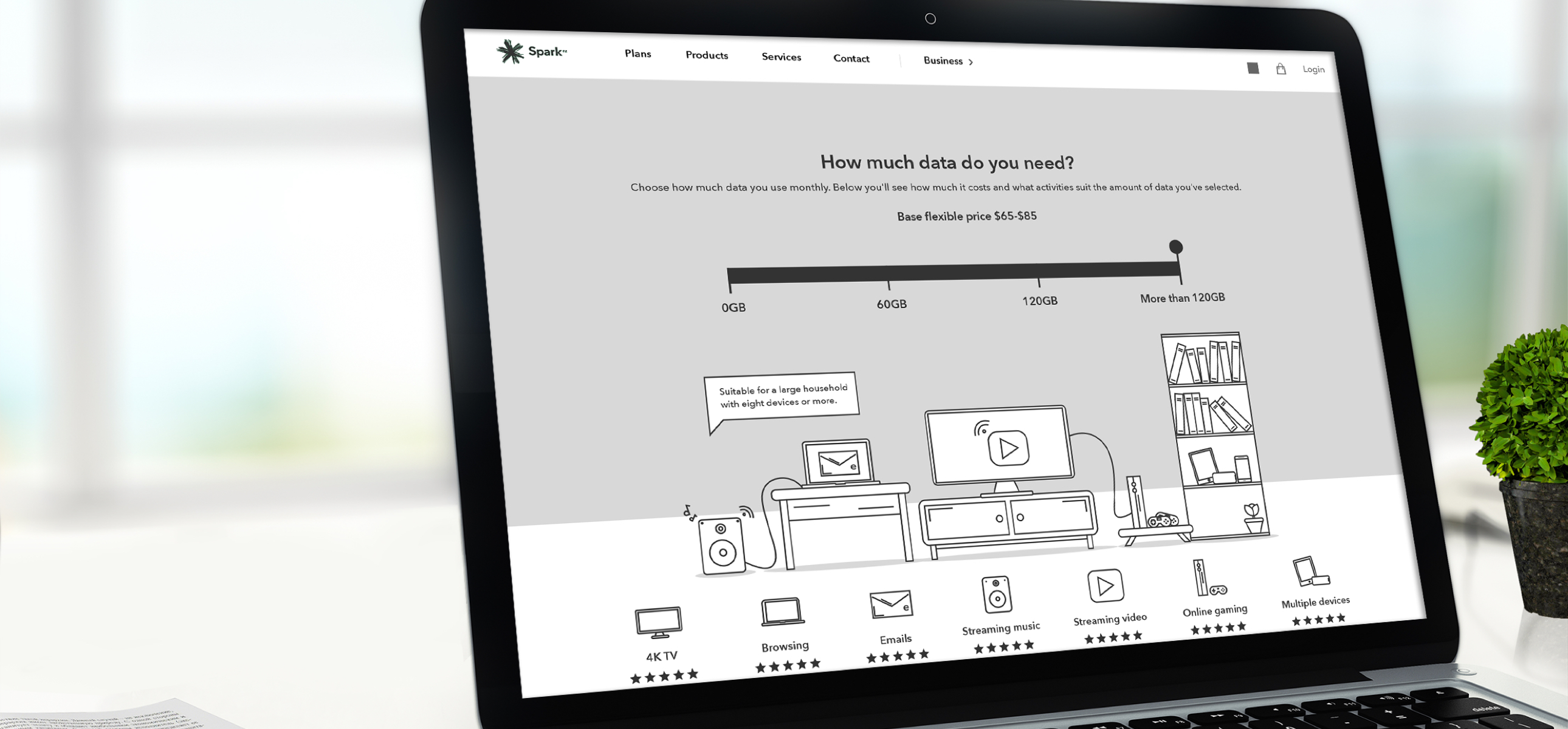 Background
At Spark, one of the largest goals is to enable an easy and enjoyable online shopping experience, pushing digital as one of our forefront channels.
The aim of this project was to identify existing pain points with the then-current online retail journey, taking into consideration the unique points of our product propositions (broadband, landline, mobile, services, and devices).
Solution
The solution that we arrived at had to have the following qualities:
1.
Simple
Easily understandable and able to effectively communicate our product propositions by using patterns and communication familiar to our customers to enable understanding and learning where required
2.
Scalable
Future proof - it had to be able to cater for our expanding catalog of services and products
3.
Contextual
Information and content presented should not be in a vacuum - they should be able to relate to each other, or to what we expect of customers' behaviors
Based on customers' data that was provided to us, and research that we had previously conducted (hueristic evaluations, qualitative testing, etc.) we based our solution around the idea that customers viewed data and price as the largest factors that contributed to their choice of providers, and sought to make that information as easily understandable and comparable as possible.
In order to encourage simplicity and reduce required customer learning of how the website functions, we applied the same design pattern throughout the website as far as possible.
Journey mapping and IA
When developing a full E2E journey for the retail experience, the main goal was to have it as simple as possible, and as scalable and repeatable as possible. This was to take advantage of customer learning and expectations - once they had gone through a product journey once, the customer would now be familiar with the experience and be able to complete it with even less effort.
As IA was also an integral part of the retail experience (the customer needs to be able to easily access and find what they're looking for), there was also work done around that.
Testing
Once we felt we had a solution that was ready to be tested, we took it to facilitated testing. We crafted a script and sat with recruited customers to gain valuable insight. We set up a room where different stakeholders could come and observe and leave notes.
There were great insights overall with several standouts:
1.
Visual and interactivity
Visual representation helped a lot when customers were trying to figure out information. Interactivity made it easier to understand, and held more interest for the customer
2.
New concepts can be challenging
Customers had an expectation of how broadband plans would work, and as Spark was introducing a new concept of having no plan, more work had to be done to help the customers understand that
3.
Familiarity and comfort
Customers reinforced our initial hypothesis that simplifying the experience and applying familiar actions when buying online helped the customer experience - many customers mentioned how easy it was as they did not have to think too much about it