Lokiev Draws! Enamel pins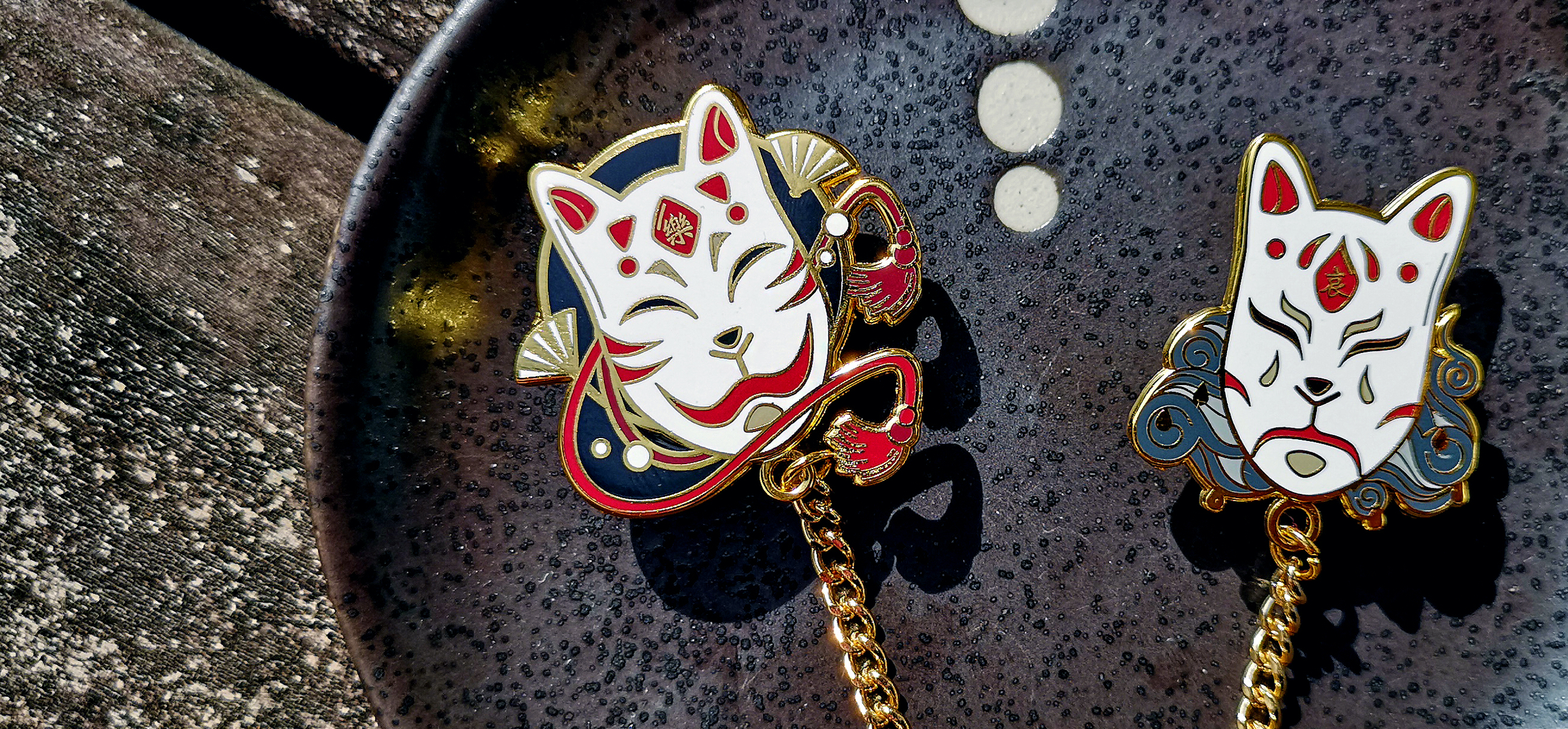 Background
Having an interest in illustrations and accessories, I wanted to create enamels pins that would reflect and fuse Asian cultures in my designs. I designed these pins by sketching them first, and then doing the designs in Illustrator and sending them off to a manufacturer to get them made. These are currently available in my Etsy shop.
Kitsune Mood Mask pins
Kitsune masks are widely seen in Japanese culture and media, and I wanted to do something, but put my own spin on it. Inspiration was taken from the happy/sad drama masks, as well as the four emotions/moods expressed in the Chinese saying "喜怒哀乐", which roughly translates to "joy, fury, sorrow, and glee".
Only the last two (sorrow and glee) were made into enamel pins; the first two, (joy and fury) were made into wooden charm necklaces. The pins were designed to be sold in a variety of combinations - chained together, or separately with a red tassel for decoration.
Komainu pins - Journey to the West
Journey to the West is one of the four big classics in Chinese literature. It depicts a monk and his three disciples' journey to the west to spread Buddhist scriptures. In designing these pins, I decided to put a twist on them and design them as Komainu, which are Japanese temple guardian dogs.
Each of the pins have three color variations, gold plated, black nickel plated, and silver plated.
Packaging and marketing
As these were products that were meant to be sold, they had to have packaging, and marketing material designed for them. Each of the pins had their own backing card, and I designed banners and promotional images. These images were mostly circulated on Instagram.